Podcast: Play in new window | Download (Duration: 1:36:37 — 132.7MB)
Subscribe: Apple Podcasts | Android | Google Podcasts | Stitcher | TuneIn | Spotify | RSS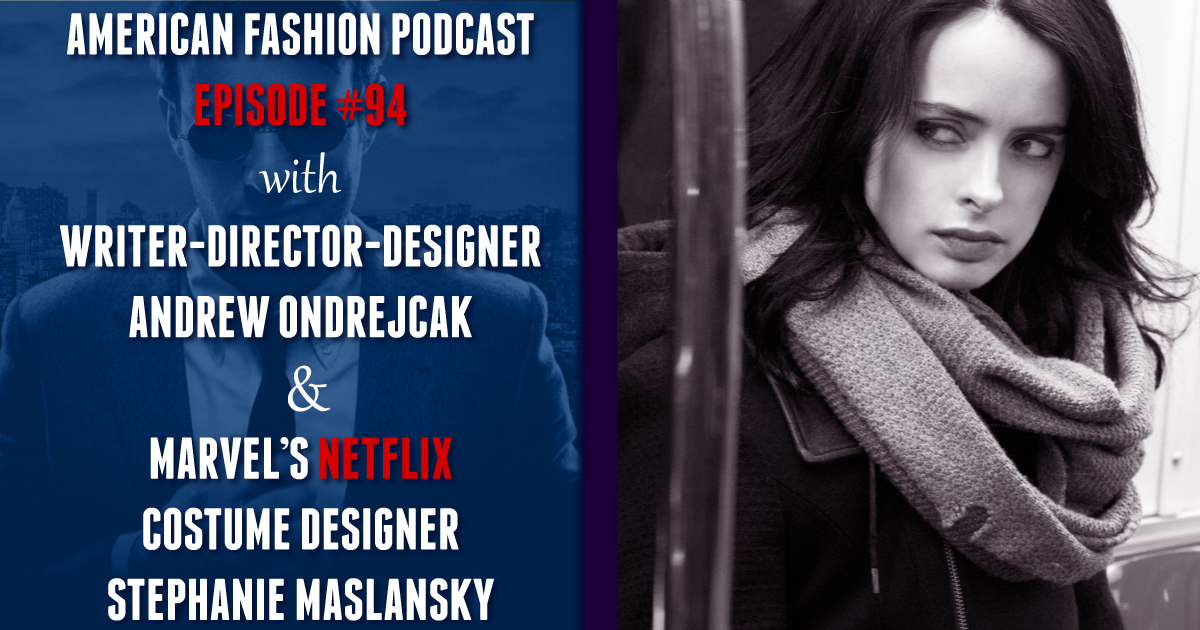 Marvel's Netflix Costume Designer
Stephanie Maslansky has worked on Marvel Entertainment's full Netflix lineup, including Jessica Jones, Daredevil, and the upcoming Luke Cage series. She has previously done styling for commercial print advertising, costume design for films, and designed costumes for the television shows Law & Order: Criminal Intent, Third Watch, and Oz.
A Director of Many Things
Andrew Ondrejcak, recently the Artist in Residence at the Park Avenue Armory, is an all-around creative director working in theater, fashion show design, and many other visual mediums. He talks here about how he manages it all, balances art and commerce, and where his drive to progress through new work comes from.
We also get into the news… talking about Hedi Slimane's departure from YSL's Los Angeles atelier, and his almost immediate replacement with new creative director Anthony Vaccarello. Pierre Bergé is upset that designers are catering to Muslim customers by making religious head coverings, the Navajo are upset that fast fashion crap purveyor Urban Outfitters is selling things that say "Navajo" but are not (and the tribe has the law on their side), CNN is relaunching CNN Style with Derek Blasberg as host but you apparently won't be able to get it on American cable because it's only on CNN International, the award winning designers at Ohne Title have been forced to close up shop, and a reporter goes on a journey to Elle and back in trying to interview Rei Kawakubo.
Highlights:
STEPHANIE: "Well you need to create a character. You need to create identifiable moments in that character's existence on screen that will resonate with whomever is watching, whether it be an old fan or a new fan." (37:11)
References: