Podcast: Play in new window | Download (Duration: 1:12:00 — 65.9MB)
Subscribe: Apple Podcasts | Android | Google Podcasts | Stitcher | TuneIn | Spotify | RSS
New York Fashion Week will soon be upon us again, and it's best to be prepared. We've assembled a team of the world's top experts for The New York Fashion Week Pregame Show to help you navigate the confusion many often feel when Fashion Week is going on.
Timecode for reference: 00:00 Intro and Design Flaw / 06:00 NYMD Designers / 16:26 Yeohlee / 22:23 Featured Guests
This show was recorded with a live audience of American Fashion Podcast fans, friends, and fashion industry insiders at The Cutting Room in Manhattan. As part of Design Flaw, a portion of ticket sales goes to fashion industry-related charities. We had a wonderful guest emcee for the evening, Mr. Robert di Mauro.  Our featured guests are Business of Fashion Chief New York Correspondent Lauren Sherman and fashion financier Gary Wassner, Chairman of Interluxe Holdings and CEO of Hilldun Corporation ("Hilldun is in fashion"). They were joined on stage by American Fashion Podcast hosts Charles Beckwith and Cathy Schepis, as well as former co-host Seth Friedermann, who is a fashion business consultant.
In addition to the deep dive interview, first up were some surprise guests, designer Yeohlee Teng representing womenswear, and from the New York Men's Day event Matteo Maniatty and Suwana Perry from  Descendant of Thieves, Venus Lo who is the designer of Chan Chit Lo, Dae Lim from Sundae School, and Vasilis Loizides of the namesake label Vasilis Loizides. They were joined on stage by representatives of Agentry PR, which organizes New York Men's Fashion Day, Henry Kessler and Joe Yang.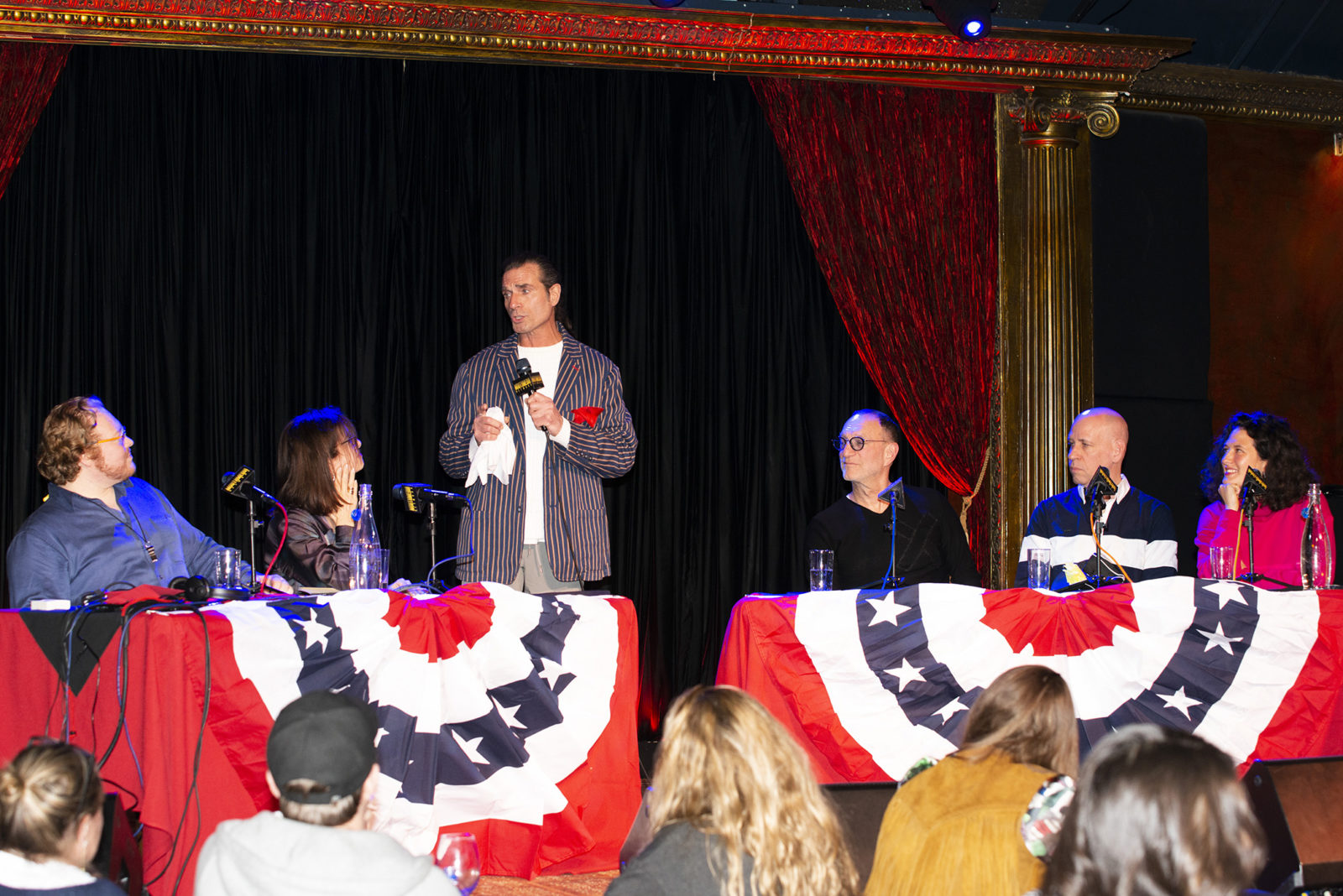 If you aren't already getting invitations to be in the audience at our public shows, be sure to sign up for the Fashion Industry Events list on this page: https://www.mouthmedianetwork.com/inviteme
References:
Design Flaw Charities List – https://designflaw.wtf/charities/
Chic Savages (book) – https://www.amazon.com/Chic-Savages-John-Fairchild/dp/0671683349/
Robert di Mauro – https://www.robertdimauro.com/
Garry Wassner on Twitter – https://twitter.com/gary_wassner
Lauren Sherman on Twitter – https://twitter.com/lapresmidi
Seth Friedermann on Twitter – https://twitter.com/sethfriederman
AFP on Instagram – https://www.instagram.com/americanfashionshow/
Business of Fashion – https://www.businessoffashion.com/
Interluxe Holdings – http://www.interluxeholdings.com/
Hilldun Corporation – http://www.hilldun.com/
The High School of Fashion Industries – https://fashionhighschool.net/
Course of Trade – https://www.courseoftrade.com/
Agentry PR – https://www.agentrypr.com/
Yeohlee – https://yeohlee.com/
Descendant of Thieves – https://descendantofthieves.com/
Sundae School – https://sundae.school/
Chan Chit Lo – https://www.chanchitlo.com/
Vasilis Loizides – https://vasilisloizides.com/
---
To find more episodes of the series or search for a specific guest, refer to our Episode List page. If you would like to be a guest on the show, there is a Be A Guest page. You can find press coverage of the show on our Press page. There is also a Media Kit if you're interested in partnering with us or sponsoring the series. Our email address is info@americanfashionpodcast.com and our voicemail line is 646-979-8709. You can find American Fashion Podcast on Facebook, on Instagram @americanfashionshow and on Twitter @afpod. To sign up to attend our live shows, visit the Live Shows page. Thanks for listening!