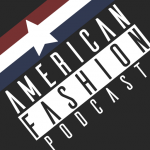 American Fashion Podcast is a show about the fashion industry, with an emphasis on the importance of changing it to be more environmentally, socially, and economically sustainable.
We want to talk to businesspeople, designers and craftspeople, academics, and people whose lives have been affected by fashion in a major way.
How To Be A Guest On American Fashion Podcast? Tell us your story:
---
Fashion is every person on Earth's first line of defense against whatever comes at them in their daily lives, and it can be one of the most liberating extensions of human expression. It is also one of the toughest businesses to break into, a rough one to stay in, and at its worst is frequently linked to things like human trafficking, employee abuse, and theft of intellectual property. On top of all that, fashion is listed as the 2nd most polluting industry in the world, surpassed only by the oil industry in its detrimental environmental impact. Something's gotta give, we need to find a balance, so let's talk it out. Join hosts Charles Beckwith, Seth Friedermann, Cathy Schepis, and Lisa-Maria Radano for a weekly conversation with designers, retailers, executives, photographers, writers, and other experts about all of this and more.