American Fashion Podcast is produced by Open Source Fashion and The Fashion Media Center.
The show consistently ranks as one of the top fashion podcasts in the world.
Roughly 60% of listeners are female, 59% of listeners are in the 25-44 age group, and over 80% of the audience downloads from the New York City area.
Self-identified subscribers include a wide range of industry insiders. A high percentage of the audience is composed of designers, publicists, fashion students, garment workers, stylists, executives, and fashion journalists.
For sponsorship and advertising inquiries, contact myteam@os-fashion.com
---
The Hosts
Charles Beckwith, an accomplished fashion photographer and a long-time technology enthusiast, is the Chief Exploration Officer at Open Source Fashion, consulting on the intersection of fashion, media, and technology, and creating long-game strategies for the development of marketing and e-commerce technology. He previously founded and edited the online fashion magazine modaCYCLE, which produced some of the first press coverage of today's hottest designers. He conceived of American Fashion Podcast as a cross between Inside The Actor's Studio, The Late Late Show with Tom Snyder, and the long-running hacker radio show Off The Hook.
Cathy Schepis has extensive experience in the fashion industry, having held various senior merchandising and executive positions at Saks Fifth Avenue, Anne Klein Collection, Liz Claiborne and most recently at a luxury direct selling organization, Doncaster. Cathy is a skillful merchant who has excelled at leading design, merchandising, product development and production teams towards embracing and adopting common sense strategies to achieve desired margins, beautifully balanced collections and ultimately customer satisfaction.
Seth Friedermann is the proprietor at Ignite Designer Management, consulting on brand strategy in the womenswear, menswear and accessories space. He has a broad knowledge on fashion marketing, branding, and social media, having spent the past several years serving emerging and established designers. He has spent time as a stylist, art director, and served for the three years as the managing editor of modaCYCLE. Prior to working in fashion, Seth was an actor, high school English teacher, umpire, comic book store owner, and a neurological medical technician.
Lisa-Maria Radano has a diverse career in writing, producing, and marketing media and luxury goods. Her highly acclaimed production of her play Brooklyn Laundry was directed by James L. Brooks and starred Glenn Close, Laura Dern and Woody Harrelson. Although a native New Yorker, she spent several years in Los Angeles as a screenwriter, script doctor, and producer on over a dozen feature films, and Fox's The Tracey Ullman Show. In recent years she has worked extensively with Charles Beckwith on various projects for modaCYCLE and other companies. She manages branding and marketing for several businesses in the Chelsea Market and around the New York City area.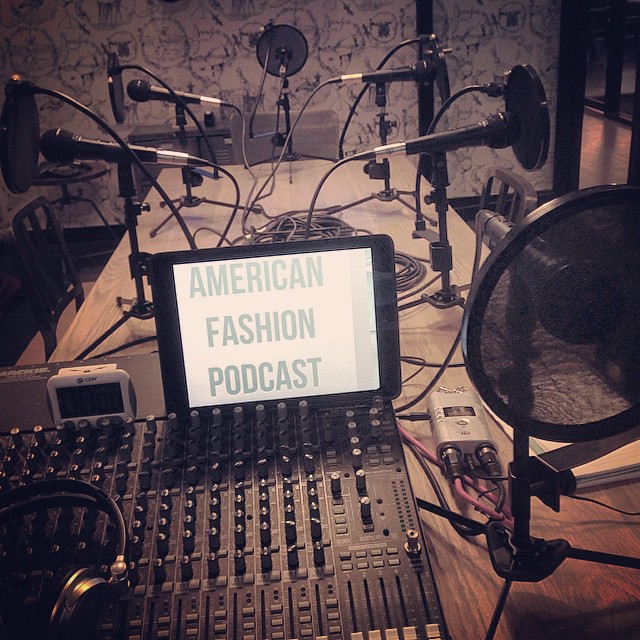 The show's official tagline is "local, sustainable, irritable," in reference to the hosts' frequent advocacy of responsible business practices within the garment industry, often delivered with acerbic wit. It is also known as "fashion's favorite show."
American Fashion Podcast has a companion show, Fashion Is Your Business, focused on the intersection of technology and business, hosted by Rob Sanchez, Pavan Bahl, and Marc Raco. In August 2015, American Fashion Podcast hosts Charles Beckwith and Seth Friedermann were interviewed on Fashion Is Your Business in that show's Episode #45.
---
Logo Bank
(click thumbnails for larger versions)