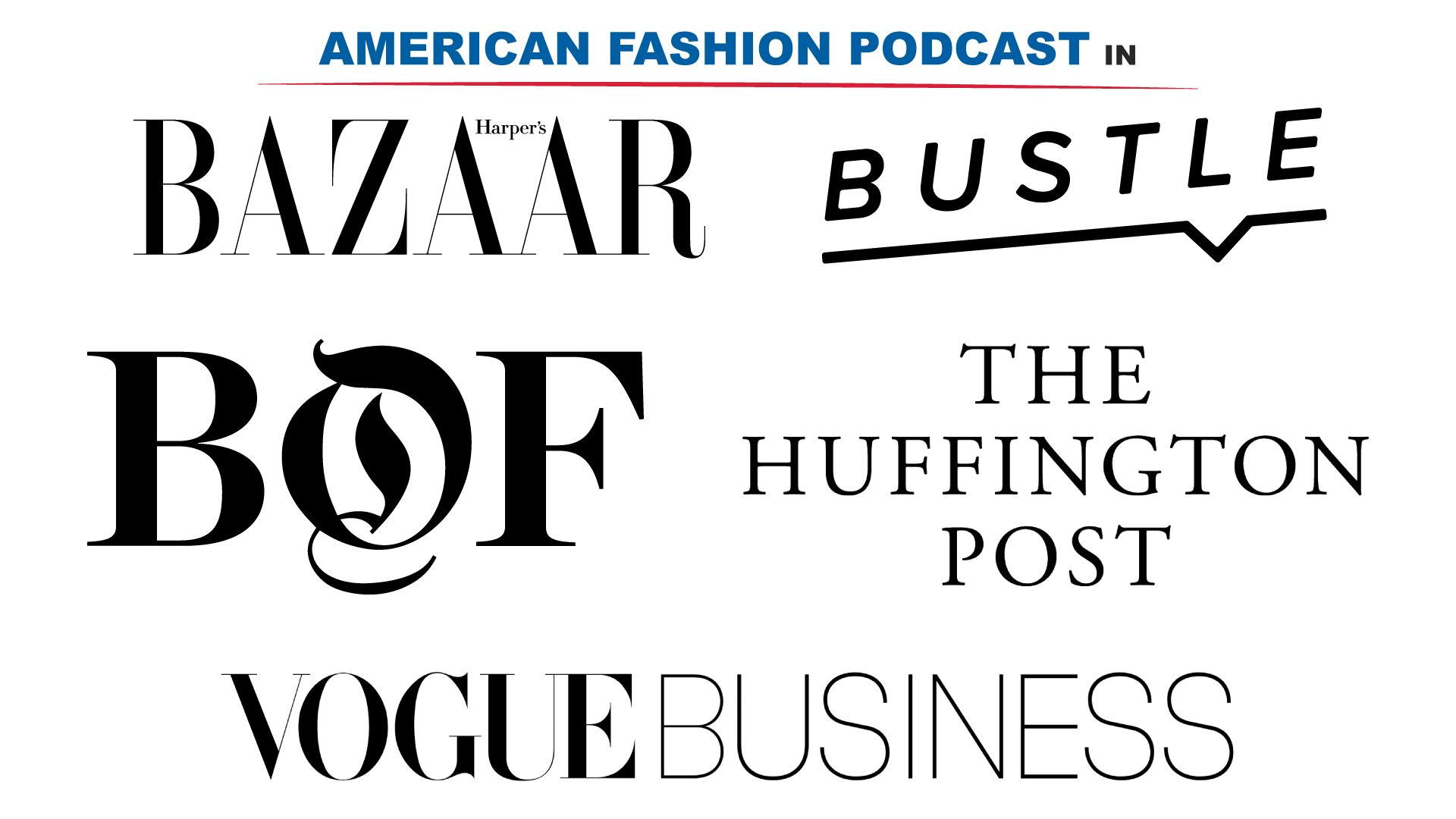 This is the Press page. Looking for our Media Kit?
Despite recent uptake, some observers are sceptical about the staying power of brand-backed podcasts. "I'm not sure major fashion houses know [why they're getting into podcasting]," says Charles Beckwith, who launched "American Fashion Podcast", a popular series that focuses on the business side of the industry. "I think these shows are going to 'podfade' quickly. It's not easy. It's a difficult thing and I think people really underestimate being able to grow and then hold an audience."
For the fashion nerd:
American Fashion Podcast
If you're looking for musings on the future of the fashion world in terms of business models, ethics, fashion media or the industry's impact on the environment, American Fashion Podcast is for you. Hosts Charles Beckwith, Seth Freidermann and Lisa-Maria Radano are each industry vets who know just the right questions to ask their guests, which have included Business of Fashion's Lauren Sherman and The Good Wife costume designer Daniel Lawson.
Vibe: The hosts keep it very professional in the studio, making for a meaningful, insightful conversations.
Noteworthy Episodes: "Nothing to Wear But Fear Itself," "Costume Designer Daniel Lawson," "Lauren Sherman Makes Fashion Magazines You Want to Read"
For the true fashion nerd at heart, American Fashion goes in-depth to all of the ins and outs of the fashion industry as a whole. Hosts Charles Beckwith, Seth Friedermann and Lisa-Maria Radano, focus solely on the American garment industry in conversations led by designers, retail, news, buyers, fashion technology entrepreneurs, runway photographers and more. The opinionated and educational podcast is a must-listen for anyone working in or striving to work in fashion. 
"They do it for football, so why not fashion?" was the question American Fashion Podcast and Mouthmedia Network were posing last night at The Cutting Room. At the juncture of Sunday's upcoming Super Bowl and New York Fashion Week colliding #NYFWPREGAME was born, or at least printed on a white pillowcase and held up for all to see by last night's podcast emcee Robert Di Mauro. The podcast recording and fashion business pep rally featured AFP's hosts Charles Beckwith and Cathy Schepis speaking with Interluxe Holdings and Hilldun's fashion financier extraordinaire Gary Wassner, fashion business consultant Seth Friedermann and Business of Fashion's intrepid reporter (who Wassner thinks is very funny on Twitter @lapresmidi) Lauren Sherman.
This one is for all the real fashion geeks out there. Not only will you hear interviews with fashion designers like Ralph Rucci and Reem Acra, but you'll also learn about sustainable fashion, manufacturing innovations, and brand strategy, amongst so much more.
In an industry defined by ultra-commercial media titans, a unique independent podcast stands the test of time and is a force for good. Sustainability advocate and media executive Charles Beckwith started American Fashion Podcast in 2014 as a way of helping the fashion industry "talk to itself about sustainability," as he puts it, in the wake of the Rana Plaza disaster.
If you want to dig deeper into behind the scenes, facts and news of the industry, then American Fashion Podcast is for you. Its podcasts feature in-depth interviews with a range of fashion experts — from designers, tech entrepreneurs, editors and photographers to CEOs, artists and retailers — who share intellectual insights on current issues affecting the fashion business. Notable guests include fashion consultant Tim Gunn (Episode 121), designer Ralph Rucci (Episode 113) and editor Mickey Boardman (Episode 65).
If you love discussions, hearing all the latest information on up-and-coming designers, and ethical fashion and trends happening in the industry, then The American Fashion Media weekly podcast is perfect for you. The interviewers make getting all of the information from designers or fashion experts fun. 
Harper's Bazaar calls this podcast the best for the "true fashion nerd at heart." We couldn't agree more. It dives into the latest news of the industry itself by gleaning information from seasoned professionals in every expertise from design to technology. If you're looking for a crash course on how fashion really works, this is the program for you.
Listen if: You can't afford to go behind the Business of Fashion's new pay wall.
With guests like writer Lauren Sherman, editor Mickey Boardman, and designers Ralph Rucci and Naeem Khan, this Fashion Media Centre-produced podcast calls on a wide array of insiders to get the scoop. But rather than offer a small cone, listeners get the almost-impossible-to-eat sundae as this show dives into the complex issues that face our favourite industry.
One for the hard-core fashion enthusiasts, American Fashion Podcast interviews top designers, delves into brands' marketing strategies, and discusses topics like sustainable fashion, tech, and more.
If you're a fan of the site Business of Fashion, then you'd like tuning into American Fashion. The weekly podcast talks about the industry's present and future from an analytical perspective. They have regular guests from all corners of fashion including buyers, tech entrepreneurs, runway photographers and designers.
One show I've been really enjoying lately is The American Fashion Podcast, which is run out of an NYC fashion business hub. Theirs is focused on broader fashion issues – mostly industry-related – but it's a great for anyone interested in the topic of fashion in general. Perhaps not the place to learn about the latest trends or how to dress for the office, but good if you want to listen to seasoned industry professionals talk about topics such as sustainability, growing a brand, and American manufacturing.
If you read The Business of Fashion, then you'll love The American Fashion Podcast.
Fashion nerds, gather round. We all know the industry is about more than mixing prints, and some of us could spend all day reading about obscure designers, supply chains and the pitfalls of going public. Dig deep into the style economy with rich storytelling and in-depth interviews with some of fashion's boldest and most knowledgeable names.
Fashion isn't all about trends and having a covetable Instagram account: History and business are two major components. If you're looking for a podcast to tell you which pants you should wear with that chunky turtleneck, this isn't for you. However, if you're dying to become an expert in the fashion industry, check out the American Fashion Podcast. Hosed by sartorial professionals like Charles Beckwith, Seth Friedermann, and Lisa-Maria Radano, this podcast is a far cry from strictly talking trends. Instead, the three hosts give a more intellectual look at fashion and interview everyone from designers to journalists and talk brands as well as giving a behind the scenes look into the industry.
The sister podcast to Fashion is Your Business, American Fashion Podcast is a weekly conversation on all facets of the fashion industry, from photography to social development to interviews with top designers. The angle is often on the evolution of fashion and business, which gives a full perspective to a millennial listener who may simply know the industry as it is now.
The American Fashion Podcast is described as "an ongoing conversation about the present and future of the garment industry." The three co-hosts Charles Beckwith, Seth Friedermann, and Lisa-Maria Radano dig into the broken business model to find out how to create one that is sustainable and supportive.
They feature a variety of people in the fashion field from designers, to retail store owners, to buyers, to fashion technology entrepreneurs, and more. Their unique take on sustainable fashion is focused solely on the American garment industry.
If you're looking for a lengthier podcast for a road trip or just to kill some time at the office, then American Fashion Podcast might be the one for you. Each episode deals with different aspects of fashion with a few episodes dedicated to men's fashion in particular. Although some episodes are more like roundtable discussions where everyone is just throwing around their own snobbish opinions, each episode is very enlightening and entertaining.
Dubbed the fashion industry's favorite show, American Fashion Podcast is unique from the other podcasts on this list in that it is very much for people working in the fashion industry. It's a lot less "tell me your story" and a lot more discussion about pertinent topics affecting the fashion business: fashion branding, sustainability, the future of retail. Listen if you want to learn about the fashion business from the inside, in conversation with people who really know their stuff. You'll probably actually learn something.
Run by co-hosts Charles Beckwith, Seth Friedermann, Cathy Schepis and Lisa-Maria Radano, American Fashion Podcast explores current issues in the garment industry. The team also looks at more sustainable and ethical practices in the future of fashion. Featuring a range of designers, retailers, executives, photographers and writers, the podcast holds discussions with such fashion bigwigs as:
Alden Wicker, founder of Ecocult (Episode 155);
Designer Ralph Rucci (Episode 50) and;
Fashion journalist and author Dana Thomas (Episode 97).
American Fashion Podcast is perfect for anyone – from those wanting to learn more about the ethical fashion industry to those looking to start a business. Listen on the website or subscribe and download for free on iTunes! You can follow their conversation on Twitter at @AFPod.
In the American Fashion Podcast, expect guests like writer Lauren Sherman, editor Mickey Boardman, and designers Ralph Rucci and Naeem Khan. This amazing group of fashion insiders aims to give an in-depth view of the industry's most complex topics instead of giving your usual superficial jargon.
The American Fashion Podcast is one of the longest-running fashion podcasts out there—and for good reason! Its hosts have industry experience in everything from fashion photography to merchandising, marketing, brand strategy consulting and more. Along with stellar guests, they offer insight into the past, present and future of what's influencing the industry. Take the time to visit their sister show, Fashion is Your Business, if you're looking for more of a tech slant to your fashion news.
Recommended Episodes: Listen to Ep 047, Form Follows Materials for designer Titania Inglis' discussion of her design process and sustainable textile sourcing. Or try Ep 050, Ralph Rucci, where legendary couturier Rucci talks about maintaining his creativity.
Fashion folks love the American Fashion Podcast because it deep dives into the designing, making, and selling of garments and accessories via longform interviews with notables from all aspects of the business side of fashion. Past guests have included Ralph Rucci, Tim Gunn, Mickey Boardman, and Reem Acra.
Some of these podcasts are about improving your personal style and others are about keeping abreast of the latest trends. American Fashion Podcast is for people looking to become experts on the fashion industry. Hosted by sartorial professionals like Charles Beckwith, Seth Friedermann, and Lisa-Maria Radano, this podcast applies intellect to the big business of style. Episodes tend to center on interviews with journalists and designers who are down to talk brands and provide rare insights into the fashion world.
Interested in learning how new trade policies are devastating fashion? Want to better understand sustainability and ethical design? Want a behind-the-scenes look at the Los Angeles style scene? This is the podcast for you. There comes a point in every stylish person's life when they are ready to begin exploring the world that crafts the goods that allow them to express themselves, and it's really nice to know that a perfect podcast exists for this deeper examination.